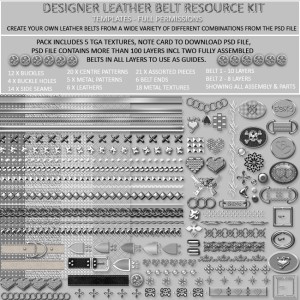 The ultimate Designer Leather Belt Resource Kit for content designers. You can create hundreds of your own belts from a variety of difference combinations from the PSD file.
Pack includes 5 TGA files (as examples) and notecard to download the PSD file with multi-layers and additional pieces.
Over 100 pieces to make an unlimted amount of unique belts. Pieces included in this kit are metallic and chrome effect and can be used for your clothes creations too. Use this in conjunction with other resource kits available from TD Templates to build up your creators resource library.
Resource Kit PSD contains:
12 x Buckles
4 x Buckle Holes
14 x Side Seams
20 x Centre Patterns
5 x Metal Patterns
6 x Leathers
21 x Assorted Pieces
6 x Belt Ends
18 x Metal Textures
Belt 1 – 19 layers showing all assembly and parts
Belt 2 – 10 layers showing all assembly and parts
Please send name, transaction details and email address on a notecard to me in-world and I will email you the PSD file so you can start creating as soon as possible!