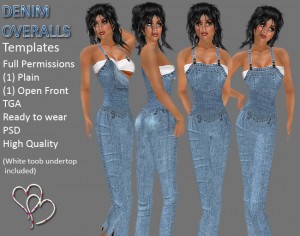 I have just released a renewed version of the popular Denim Overalls. Brand new psd and textures. Full front version and open front version available in one box.
**For those who purchased this previously and would like the updated PSD file please IM me. (I need proof of previous purchase though!)
Thanks.
Please send name, transaction details and email address on a notecard to me in-world and I will email you the PSD file so you can start creating as soon as possible!
Click here to purchase on XstreetSL