Archive for the "FITNESS" Category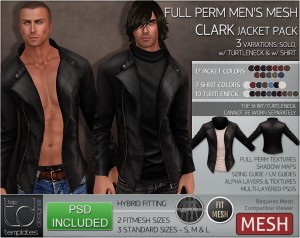 Out Now! The winter season is here, Wrap up with the stylish new Men's MESH CLARK JACKET full perm template, Includes TURTLENECK SWEATER and UNDERSHIRT variations.
Available In-World Here
SL Marketplace Link here: https://marketplace.secondlife.com/p/TD-TEMPLATES-MESH-Mens-CLARK-Jacket-Pack-FULL-PERMS/8209000
Back to Top
|
Comments Off

on MENS MESH CLARK JACKET w/ TURTLENECK & SHIRT VARIATIONS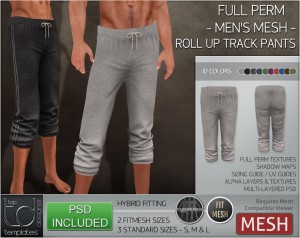 Full Perm Mens MESH Rolled Up Track Pants
Comes with 3 Standard Sizes (S,M & L) and 2 FitMesh Sizes! 10 Colors. Includes Multi-Layered PSDs, Shadow Maps, & More.
In-World Store SLURL link here
Marketplace Link here
Back to Top
|
Comments Off

on MENS MESH ROLLED UP TRACK PANTS