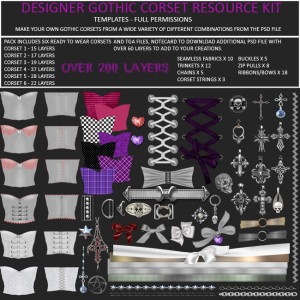 Ultimate corset makers kit. Can be normal corsets or gothic. Includes 6 different constructed corsets. Over 140 layers. You can create hundreds of your own corsets from a variety of difference combinations from the PSD files. All layers interchangeable. Additional PSD includes over 60 layers. 7 PSD files available via email.
Pack includes 6 TGA files (as examples) and notecard to download the PSD files with multi-layers and additional pieces.
Over 200 pieces to make an unlimted amount of unique corsets. Use this in conjunction with other resource kits available from TD Templates to build up your creators resource library.
Resource Kit PSDs contain:
Fabrics x 10
Trinkets x 12
Chains x 5
Corset Strings x 3
Buckles x 5
Zip Pulls x 8
Ribbons/Bows x 18
Corset 1 – 15 layers showing all assembly and parts
Corset 2 – 17 layers showing all assembly and parts
Corset 3 – 19 layers showing all assembly and parts
Corset 4 – 37 layers showing all assembly and parts
Corset 5 – 28 layers showing all assembly and parts
Corset 6 – 22 layers showing all assembly and parts
Click here to purchase on XstreetSL