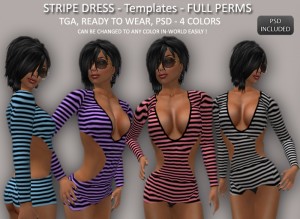 STRIPE DRESS TEMPLATES
Make your own sexy Striped dresses!. With you as the creator. You can add your designs to them or sell them ready to wear as is. Can also be worn as a sexy top. Comes in 4 colors but can be color changed inworld easily.          
Includes TGA, PSD and ready to wear.Multilayered PSD.
Click here to purchase on XstreetSL