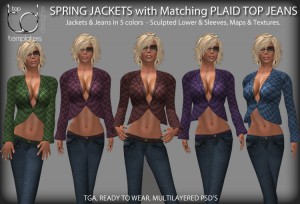 Create your own Spring Jacket and jeans sets.
Spring Jackets come in 5 colors. Plaid Top Jeans come in 5 matching textures. Jacket includes sculpted lower with button and sleeves, maps and textures (exclusive design). Fabric samples included. TGA, PSD and ready to wear.
**PSD Files available. Now with immediate PSD download ability – no waiting!!