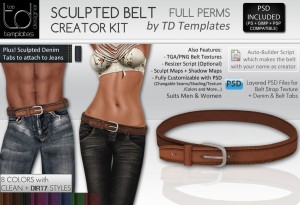 The essential creator kit for making your own high quality sculpted belts to add to your clothing outfits for your fashion store.
Unisex, belt suits both Men & Women
Includes Limited Edition – Halloween Bloodstained Belt Textures!
(Free with the pack until October 31st)
Easy to put together – Auto-Builder Script which makes the full perms belt for you with
your name as the creator. (Also includes instructions if you wish to build the belt manually)
Resizer Script inside the kit – Optional for you to use your own or none.
Marketplace Link here