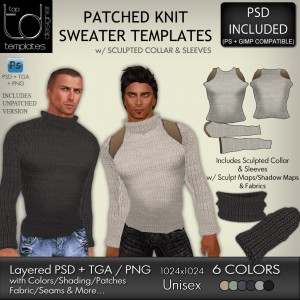 Cosy and Stylish Patched Knit Sweaters, ready to add to your clothing range or bring your creative touch to.
Create your own Patched Knit Sweater to add to your clothing line with these high quality full perm templates. In Layered PSD & TGA/PNG Format, 1024×1024 Resolution.
Includes Sculpted Collar and Sleeves for added realism to your creations.
Marketplace Link here