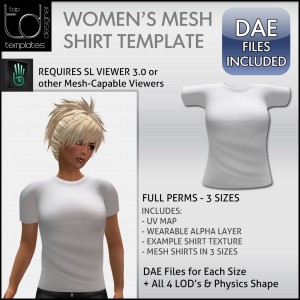 Second Life has recently enabled mesh objects to be uploaded in-world. Eventually we will see more and more creators using mesh across the grid as it grows in popularity.
Mesh Objects require Viewer 3 or other Mesh Capable Viewers to see them In-World.
The DAE version includes DAE files in all 4 LOD levels + Physics Shape ready for you to upload in world to have your name as the creator. DAE Version available here
We are offering a Free Women's Mesh T-Shirt Template Demo available here
We have chosen to share the demo mesh item for free both for your information and to have an experiment with on your own avatar. We would rather you be informed about mesh and see what it looks like before purchasing.
The full perm (non-DAE) version of the template is available here