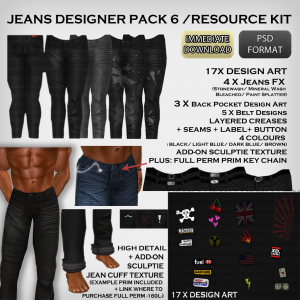 One of the most comprehensive jeans resource packs yet with incredible value for money and excellent quality to assist you in your creations.
In Layered PSD Format. Also contains plain jeans with No FX only in TGA format.
Suitable for both guys and girls.
PSD includes lots of layered features:
* 17 X Design Art
* 4 X Jeans FX (Stonewash/ Mineral Wash/ Bleached/ Paint Splatter
* 3 X Back Pockets Design Art
* 5 X Belt Designs
* FULL PERM Prim Key Chain
::: ALSO :::
PSD + TGA Texture to Add-On to your Sculpted Jean Cuff Prims for added realism!
XStreet Link here