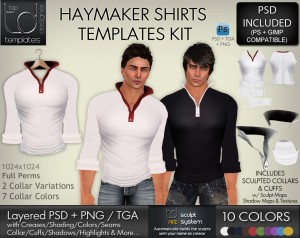 Look stylish with the newly released Haymaker Shirts for men. Designed with realistic shading and creases. The shirts also include professionally 3D sculpted collars and cuffs.
The pack includes the shirts in 10 Colors (see display) & also 7 different collar color options on the PSD for you to create lots of different combinations.
Easy and Ready to wear out of the box. PNG/ TGA / Multi-Layered PSD Format. 1024×1024 High Resolution.
Marketplace Link Here