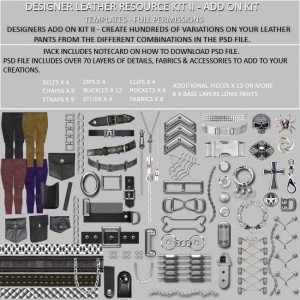 Designer Leather Resource Kit II – Add on Kit is an Add on Kit for the Designer Leather Resource Kit for content designers. You can create hundreds of your own designs from a variety of difference combinations from the PSD file.
Pack includes notecard to download the PSD file with multi-layers and additional pieces.
Over 70 pieces (actually many more) to make an unlimted amount of leather creations. Use this in conjunction with other resource kits available from TD Templates to build up your creators resource library.
Resource Kit PSD contains:
Belts x 4
Chains x 8
Straps x 9
Zips x 4
Cuckles x 12
Studs x 5
Clips x 4
Pockets x 6
Fabrics x 6
Additional Pieces x 12 (and more)